FTPD - November 18, 2022
Seventh-day Adventist Church in Canada, Year End Meetings
I have been away at the SDACC Year-end Meetings in Oshawa this week along with Noble Donkor, our VP for Academic Administration and Darrell Huether, our VP for Financial Administration. These meetings bring together the officers from the SDACC conferences, union and other entities from across Canada and we discuss issues that we face collectively. First, the various groups meet separately (i.e. Presidents, Administrative Officers, Financial Officers, Educational Council) and then come together to discuss the recommendations from each of those earlier meetings. There have also been presentations and updates from Health Benefits, Adventist Risk Management and the Retirement plan. The SDACC Board meets this weekend to discuss, finalize and approve the recommendations from the earlier meetings. During these meetings the Educational representatives from across Canada to work together to help  improve policies and practices in our K-12 schools as well.
---
Senior Development Officer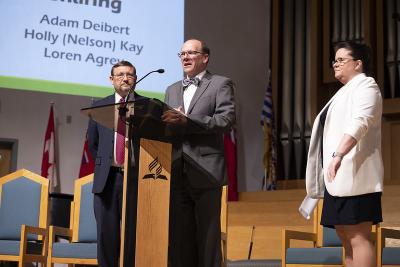 We welcome our new Senior Development Officer, Adam Deibert. After a thorough search, we are happy to bring Adam back to our campus. Up until 2017 he had served as Chaplain on our campus and now he will take up the duties of the Senior Development Officer position. He will begin this role in the Advancement Office on January 10,2023. For the last five years, Adam has served as Alumni Council President and has worked with our alumni and friends in that role. We look forward to his leadership in continuing to build relationships as well as bringing money to support us with our capital, program, and student success initiatives.
---
Thank You Eric!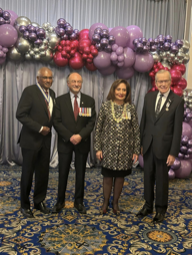 As Adam takes this position, we thank Eric Rajah for his dedication and commitment to Burman University and for his successful fundraising efforts which resulted in our beautiful new library, along with student scholarships, program enhancements and other initiatives. Just yesterday he was recognized for the impact he has made beyond our campus. Eric, along with 59 other members of the Alberta Order of Excellence, were awarded the Queen Elizabeth II's Platinum Jubilee Medal (Alberta), by the  Lieutenant Governor of Alberta, Salma Lakhsni.  He received this award for the humanitarian work he has done over the past 33 years through A Better World. Also, alumnus Dr. Howard Gimbel was honoured in this ceremony. To put this in perspective, another recipient of this medal was former Prime Minister Joe Clark. Congratulations, Eric, for receiving this honour.
---
Performance Season
Our musical performing groups will be very active during the next few weeks. Please attend and enjoy the treats of Christmas music that will be shared by the newly constituted band, the orchestra as well as the choir. Here are the times and dates to put in your calendar. These concerts can be viewed online by clicking on the link below.
Chamber Orchestra Concert
Friday, November 25, 2022 at 7:30 pm (CHSDA Church)
Concert Winds Concert
Saturday, November 26, 2022 at 7:30 pm (CHSDA Church)
Choral Union Christmas Concert
Friday, December 2, 2022 at 7:30 pm (CHSDA Church)
Burman University Symphony Orchestra (BUSO) Christmas Concert
Sunday, December 4, 2022 at 7:00 pm (CSDA)